The Ugandan Law Society ensures that all Ugandan citizens have access to a competent, and independent legal profession. This visual identity promotes a sense of humanity, justice, equality, and respect.
ROLE
Graphic designer
Collaborators
Aster Ruzindana: Manger at Seven marketing agency and The Ugandan Law Society Council.
CONTEXT & objective
Many poor families have limited access to legal services due to illiteracy and a lack of information about their human rights. The objective of rebranding the ULS was to depict a serious, upright and just image of the law society. The society has both an advisory and advocacy mandate to ensure legal compliance with the Constitution of Uganda. Through alliances and exchange of expertise, the Ugandan Law Society fosters networking, collaboration with international and local organizations, and legal fraternities. The institution promotes informed citizen participation with a goal of achieving free and fair elections. Interventions include public awareness campaigns about current electoral laws, standards, practices, and skills training.
DESIGN OUTCOME
The rebranding brought uniformity to the society's identity, promotional materials, and merchandise. The visual system confers a feeling of independence, honor, reliability, respect, and equality before the law. The typeface, Lava, designed by Peter Bilak, is legible, sophisticated, and elegant. The bars selectively highlight the most pertinent information within the text to give the viewer a clear message. National colors (red, yellow, and black) and bold geometric shapes formed patterns that connected the Ugandan people to their cultural identity.
brief
Design a publication that raises awareness about the importance of proper hygiene and sanitation for people of all ages and ethnicities in Southern Nepal.
ROLE
Researcher, graphic designer, illustrator, and photographer.
COLLABORATION
CONTEXT & OBJECTIVE
In Nepal, half the population defecate in the open and approximately 10,500 children die of diarrheal diseases each year. Forty percent of school-aged children are infected with intestinal worms. Government and non-governmental organizations address this situation by implementing a hygiene and sanitation methodology called Community Led Total Sanitation (CLTS) that has a fear, humiliation, and shame component to bring about behavior change.
My researched revealed that media messages in Nepal were designed in the local or national languages. These messages are often ineffective for the large numbers of people who are illiterate. No visuals were available to raise awareness about the impact of using soap or the danger of worms and their connection to water.
DESIGN OUTCOME
My goal was to design an easy to understand publication that raised awareness about the importance of proper hygiene and sanitation for people of all ages and ethnicities. The zine addressed common questions raised by local people during one-on-one interviews, focus group discussions, and community workshops/ events. The messages in the publication built on cultural norms and daily practices. The colors used in the Zine were inspired by the vibrant saris commonly worn by local women. The typeface, Gotham, is simple and easy to read. All graphics were pretested and received feedback from local communities.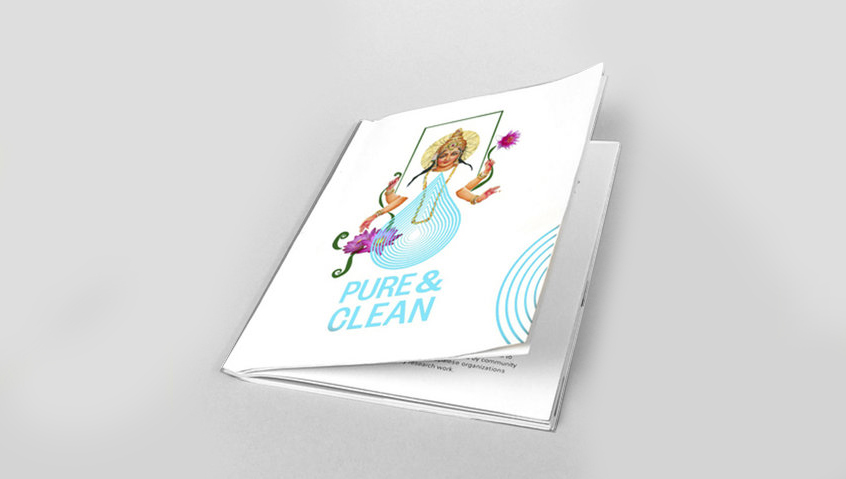 BRIEF
Research, prototype, and communicate user experiences related to various stages in the development of the U-Report. I led one-on-one interviews, focus group discussions, and workshops to collect data and information.
CONTEXT & OBJECTIVE
U-Report is an award winning social messaging tool used by young people to voice their opinions on challenges in their community and to encourage citizen–led development. U-report includes an innovative free SMS system that allows young people to voice their opinions on development issues that affect them at parish, district and national levels. The U-Report pilot encourages youth and youth organizations to work with other community leaders to bring about positive social and economic change. This new initiative was designed to improve service delivery through social monitoring and introduce new standards of transparency and accountability.
PROCESS
I supported project staff to explain the purpose of the U-Report, mechanics of its operation, solicited recommendations for improvement and set timelines to provide feedback to the users. Youth and youth networks had the opportunity to understand the U-Report's main features and provide useful feedback on the testing of each component of the new technology.

I maintained a record of daily CO updates, tasks completed, the status of action plans, and upcoming events on worksheets, which I shared with my manager at Verynice NY. I updated my team in NY on the status of the project and shared the outcome with the Unicef Innovation Lab team and my manager at Verynice in NY.
Below is a overview mapping out what works within the current system and highlighting areas that could be improved by UNICEF staff member Bayo.
Below is a Goal and Key activities worksheet, highlighting the way UNICEF staff member Abraham currently interacts with the U–Report system.
DESIGN OUTCOME
The design challenge was to develop a scalable user-centered visual system for Unicef Country Offices implementing U-Report. The new communication system needed to provoke interest among youth and better engage U-reporters.
My role in Uganda was to research, prototype, and communicate with UNCEIF and Verynice staff in New York. I led one-on-one interviews, focus group discussions and workshops to collect data and information. While collecting data, I put users at the center of my research, highlighting their struggles, key activities, what functioned/didn't, and what could be improved. I mapped out the technical and design system being used and shared various needs and insights of local community members, influencers, government officials, technical people, and aid workers. I documented and communicated what was collected on-site and reported the results to the project manager. Together with the team in New York, we prototyped and pretested the design in various countries around the world.
U–Report has over 1.8 million reporters and is being used by governments in 18 countries, such as Nigeria, Zambia, Burundi, Indonesia etc.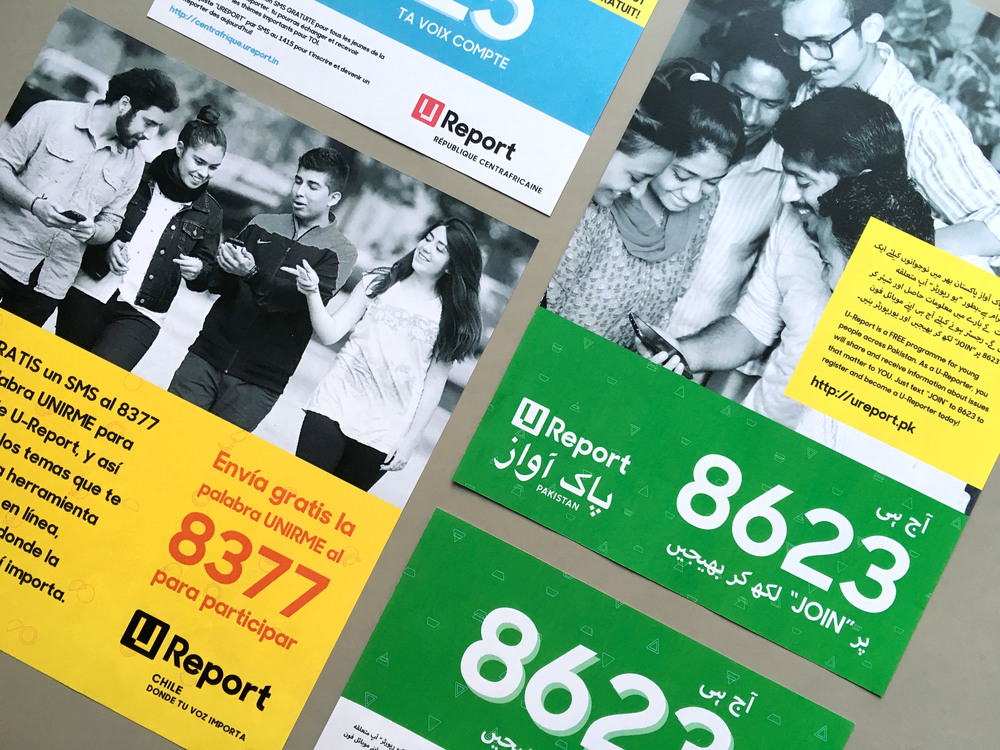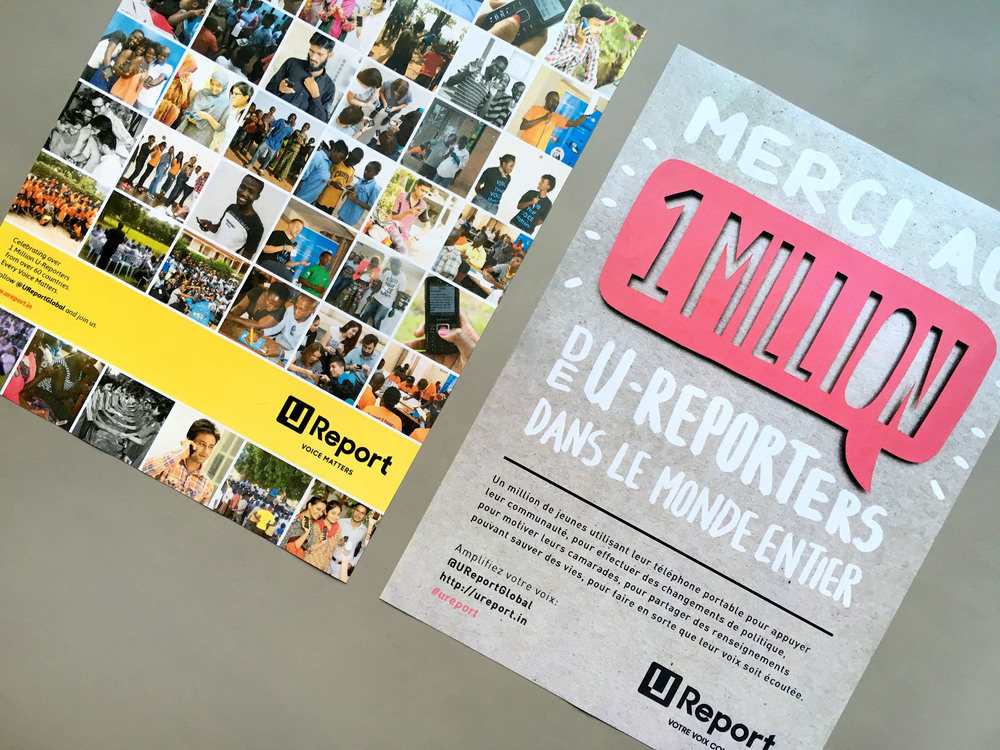 brief
Design a visual campaign for True Balance Studio, a small gym that promotes living a healthy lifestyle through movement, nutrition, and community engagement.
role
Graphic designer and production artist
collaboration
Gym community, owner Ali Smith and co owner Suzanne Miranda
CONTEXT & OBJECTIVE
Based in Mt Vernon, Baltimore, True Balance Studio's trainers use a holistic training program, uniquely designed for clients to master their full potential. Trainers help clients reach their goals through progressive workouts, while at the same time introducing the science behind each movement through a 'train smart' method.
TRUE BALANCE STUDIO BEFORE
DESIGN OUTCOME
A cohesive visual language that promoted customized fitness to each clients unique needs. The design element finds alignment and balance over a grid of images that reflect nurturing the mind and body through community engagement, fitness, and nutrition. The typeface, Balto design by Tal Leming, is versatile, utilitarian, and quirky.
brief
Design a brand system for Safe Boda that reflects a sense of alertness, vigilance, and caution in movement on the busy streets of Kampala, Uganda.
ROLE
Graphic designer
COLLABORATORS
Maxime DIeudonné, Alastair Sussock, and Safe Boda team.
CONTEXT & OBJECTIVE
Safe Boda connects passengers to a safe and affordable motorcycle transportation system. Hired motorcycles are called bodas in Uganda and are a primary means of transport. Motorcycles accounted for 75% of accidents on the roads (2013 statistics). Motorcycles are the main mode of transportation for people as they are affordable and fast. Often drivers are untrained and move recklessly on the road. The objective was to create a brand system that reflects caution and safety in movement, as well as increase recognition and inspire trust in the company.
DESIGN OUTCOME
The visual system conveys a sense of safety and vigilance on the road. The color, neon orange and reflective silver, represents caution, giving the viewer a feeling of comfort and safety. The typeface, Bryant, designed by Eric Olson, is open, friendly and consistent. The typographic lockup provides structure suggesting an aerial view of a road system. The arrows convey movement and direction. The mark shows protection in movement from one destination to the next.
Neon orange helmets and vests are easily recognizable and glow at night in the dark. The app displays travel costs calculated according to the distance of the journey. This reduces anxiety surrounding the negotiation of exorbitant motorcycle fares. The numbers on the backs of the helmets and vests connect passengers to Safe Boda's vetted motorcycle drivers for verification through an app or a call on a mobile phone. The face, bio, and verification number related to each motorcycle driver, allows passengers to access information upfront about each driver. Business cards and stickers share contact information with the public and raise awareness about Safe Boda's mission. Tote bags, designed with both shoulder and hand straps, enable passengers to safely transport goods thereby reducing cases of motorcycle theft on Kampala's crowded streets.
brief
Design a publication that documents paintings completed by the Maryland Institute College of Art undergraduate thesis class.
ROLE
Publication designer
COLLABORATORS
Maryland Institute College of Art Painting department chair and students
CONTEXT & OBJECTIVE
This publication documents students' paintings completed by the undergraduate thesis class of 2014.
DESIGN OUTCOME
Each artist was represented by a purpose statement and 1 to 3 images of their artwork painted during their final year. The department's philosophy of nurturing each student's approach to their work inspired the layout for this book.
brief
Create unique and elevated marketing experiences that lead the consumer throughout the store by telling a deeper, more personalized story.
ROLE
Graphic designer
COLLABORATION
Under Armour Global Brand Creative Environments team: Kristian Espinosa, Nathan Grundhauser, and Eric Ducan.
CONTEXT & objective
Amsterdam's band house is the largest Under Armour premium store in Europe. Our objective was to create unique elevated marketing experiences to lead the consumer throughout the store and tell a deeper, more personalized story.
DESIGN OUTCOME
The design outcome was the creation of a premium store that connected the consumer to Dutch culture through sport, photography, and art.
brief
Design an in-store visual experience that engages and inspires women to be physically active in order to achieve their fitness goals.
ROLE
Graphic designer and animator
COLLABORATION
Under Armour Global Brand Creative Environments team: Kristian Espinosa, Nathan Grundhauser, and Eric Ducan.
PROCESS
Under Armour is a human performance athletic brand. As an athlete, I have always felt incredibly inspired by people who set out to achieve their goals. Many gyms have a motivational board that highlights individual goals and success (person records). Standing before this wall, that documented people's ambitions and successes, I too wanted to make a change in my own life.
I was reminded of Candy Chang's interactive, Before I Die, wall that holds similar qualities of inviting the viewer to reflect and share in a public space. I wondered: How could this type of goal setting become digital?

How could we leverage Under Armour's community of women to inspire each other at all levels of fitness? This begins with the newbie runner beginning her journey, who says, "I will….run my first 3K" …. all the way to the more experienced athlete, who says, "I will…. climb Annapurna". I began thinking about goal setting; using the phrase "I will ........". Step 1: Define and share your goal. This activation invites women to share their goals taking the first step toward improving their personal health and wellbeing. Step 2: Document your progress: After signing up and creating a goal, the information links with UA Record, the world's first 24/7 connected health and fitness system.

UA Record is designed to give users personalized insights to help them achieve their performance goals. Under Armour's, Map My Fitness, rewards the athlete for their dedication with a 40% off product incentive. Step 3: Connect to a community: UA Record is an effective way to connect with people in your area working on the same goals and motivating them to keep up the momentum.
CONTEXT & OBJECTIVE
#IWILL is a digital campaign empowering women striving to improve their health and wellbeing through setting goals, tracking progress, and sharing their personal set backs and successes along the way.
DESIGN OUTCOME
The initiative began with the activation of a digital wall that exhibited women's goals populating the #IWILL. The content was generated by women documenting their personal fitness goals. This display reflects women of all levels of fitness working hard to better themselves.
CONTEXT & OBJECTIVE
The department of Humanities studies people's history of thought and the way their pathways have shaped ideologies and relationships of power through time. The objective was to share the Humanities Core department course with students in a creative way.
DESIGN OUTCOME
An illustrative typographic element that shares Humanities Core in animation, apparel and web presence.
brief
Create a brand for Martha McAlpine that reflects her passion for life and promotes her yoga business.
ROLE
Photographer, animator, illustrator, and graphic designer.
COLLABORATORS
Martha McAlpine
CONTEXT & OBJECTIVE
Martha is a Kundalini yoga teacher. Kundalini in yoga means energy coiled at the base of the spine. Her practice focuses on clearing blocked energy using breath and movement. The brand reflects Martha's presence which is down to earth, strong, intimate, and filled with love.
DESIGN OUTCOME
A cohesive visual system that shares Martha's teaching practice through animation and print collateral.